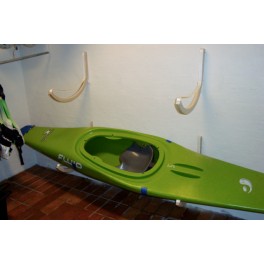  
The Heron - Racingkayak hangers (1 set of 2 hangers)
The Heron - Racingkayak hangers (1 set of 2 hangers)
Hangers for wall mounted installation (set of 2 pieces). An easy storage solution for your racingkayak.
The pressure is distributed evenly on the bottom of the boat by the  25 mm wide nylon strap.
Steam bended solid Ash. Dimension: 25 x 38 mm
Max.load per set = 15 kg
For further questions please feel free to contact us, bewoo@bewoo.dk
Secure payment
Fell free to use the following payment options : - Apple pay - Stripe - PayPal or by Bankwire.
Delivery policy
(edit with the Customer Reassurance module)
The brackets are supplied in sets (2 pcs) for wall mounting. 
A space-saving and highly presentable way to keep your racingkayak.
 The brackets are designed for the discerning kayakowner which, in addition to a simple and convenient storage solution also want a presentable solution. 
This is what Bewoo's products can provide in Scandinavian design, simple lines, nature's own sustainable materials "Wood", added artisanal functional details. The brackets are primarily for indoor use (covered and protected by direct weather in example a garage, etc.). The product is initially coated with beeswax. This is to highlight and preserve the warm glow from the Ash tree. Beeswax do not provide any lasting protection against rain / snow // sunlight product if exposed unprotected in the open.
If you want the product delivered just with sanded surface so you can give the product a coating of your own choice, please just let us know a we will arrange this.
Just mention this with the order that you want the product delivered without surface treatment. 
The rack is ready to install with pre-drilled and countersunk 10 mm mounting holes (2 pieces) for stable wall mounting. Screws are not included. 
The pressure is distributed evenly across the bottom or side of kayak using the 25 mm wide nylon strap. The hangers are produced in Danish steam-bent ash (Dimension: 25x38 mm). Outer dimensions of the rack is about 45 cm in height and 55 cm in depth. Max.load per set = 15 kg (7.5 kg per hanger) 
If you have further questions, please contact us at bewoo@bewoo.dk. We look forward tl to help you make the right choice.