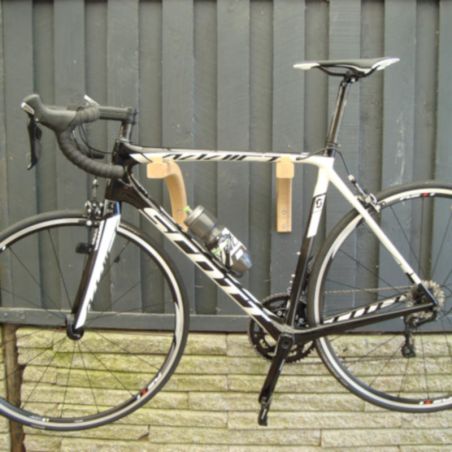  
Bicycle Storage, wall mounted.
Tax included
Delivery: 1 to 3 weeks
A specially designed bicycle suspension in steam bent ash wood with spacers 2.5 mm thick leather.
A unique product that will adorn any livingroomwall even when the bike is not at home. 
Bicycle suspension provides space for a bicycle track of max 68 cm width.
Width : 45 mm
Height: 230 mm
Depth: 390 mm
Distance between leather spacers are 50 mm .
Maximum weight load : 10 kg per rack.
Secure payment
Fell free to use the following payment options : - Apple pay - Stripe or by Bankwire.
Delivery policy
(edit with the Customer Reassurance module)
Return policy
(edit with the Customer Reassurance module)
Looking for a different storage solution for your best friend???
You found it!!
a Handmade wooden bikehanger that your wife would be pleased to have in the livingroom............you don't find that kind of stuff every day!!!!
Beautiful wall mounted bike storage in solid wood. Ready for mounting at reception.
Screws for instellation are included. Max.load per set = 20 kg
A custom storage system in solid wood. The Bicycle suspension comes in sets (2 pcs) for wall mounting.
A space-saving and highly presentable way to keep your racing bike!
Bicycle hanger is designed for the discerning cycling enthusiast who, in addition to a simple and practical storage solution also want a presentable solution.
This is what Bewoo's products can meet the force of Scandinavian design, simple lines, nature's own sustainable materials "Wood", added artisanal functional details.
Bicycle hanger is for indoor use.
If you want the product delivered just with polished surface, so you can give the product a surface of your choice, this can also be done. It should only be mentioned when ordering that you want the product delivered without surface treatment.
The products is ready to install with pre-drilled and countersunk 10 mm mounting holes (2 pieces) for stable wall mounting. Screws are included.
Be aware that it is the base on which the suspension setup is installed that is the key element. The screws are no better than the material in which they are inserted! Please see our installation instruction.
The Bicycle suspension is produced in Danish steam-bent ash (about 40x40 mm).
Outer dimensions of the suspension is about 23 cm in height and 39 cm in depth.
If you haven't found answers to your questions above, please contact us at bewoo@bewoo.dk. We look forward tll to help you make the right choice.
Data sheet
Heigth

23 cm

Depth

39 cm

Weight

1,5 kg

Surface treatment

Non
Reviews
(0)