 
Hanger - ( 入 ) rú - means "enter" in chinese.
(kr200.00 stk ved køb af æske med 4 bøjler)
Tax included
Delivery: 1 to 3 weeks
Hanger for the hall in a unique clean Scandinavian design. The name of the hanger is found with inspiration from the Chinese characters 入 which means "enter".
The hanger is made of 28 mm Oak round-sticks joined in tight connection with a glued 6 mm stainless steel hanger hook and added a dot in leather with logo.
Secure payment
Fell free to use the following payment options : - Apple pay - Stripe or by Bankwire.
Delivery policy
(edit with the Customer Reassurance module)
Return policy
(edit with the Customer Reassurance module)
Rú is developed on the basis of a desire to create a hygienic, convenient and simple hanger design with an underlying positively charged message to the user. Based on Chinese characters have 入 (rú) seen the daylight.
入 - hanger is comfortable to hold and easy to handle. The clothes fall naturally over the staves optimal angular composition.
入 - hanger can be used in large wardrobes where the end piece of leather can be engraved with eg a numbering, initials, a written greeting or company logo.
入 - hanger are produced in oak. An extremely rugged wood that just will develop its patina with increased use.
入 - hanger is a very hygienic product qua oak natural antiseptic properties.
It is possible to get laser engraved your logo / text on læderrosetten. Contact us at bewoo@bewoo.dk or call 63122729 for further information. There is ø28 mm available. The ø28 mm space and the imagination sets the limits.
Data sheet
Heigth

20 cm

Width

45 cm

Depth

2,8 cm

Weight

0,4 kg

Surface treatment

Non
You might also like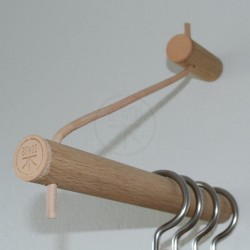 1 Review(s)&nbsp
Reviews
(0)