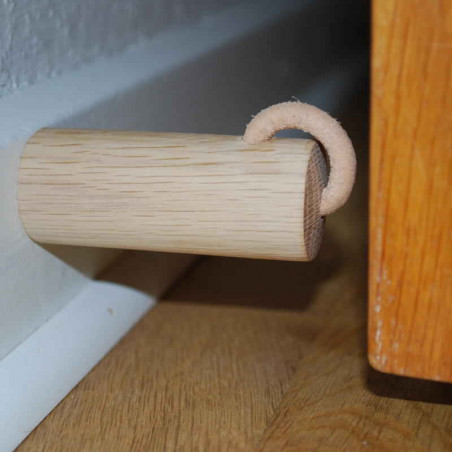  
Door-stop - X2
Tax included
Delivery: 1 to 3 weeks
Door stop in exclusive and simple design made of Oak or Ash with resilient stop in core leather. See the door stop on your wall with Augmented Reality AR

Perfect for the modern simple home.
The door stop can be used both vertically and horizontally.
A door stop in a simple Danish design in first-class raw materials.
A functional door stop with charm and style.
Found your next door stop?
Secure payment
Fell free to use the following payment options : - Apple pay - Stripe or by Bankwire.
Delivery policy
(edit with the Customer Reassurance module)
Return policy
(edit with the Customer Reassurance module)
The door stop complements solid wood floors from:
www.pagulve.dk - www.dinesen.com - www.junckers.dk - www.bywood.dk
Door stops in solid wood and core leather in functional design.
The door stop is supplied complete with a shoulder screw for direct mounting in a wall or floor.
The door stopper is made of solid oak and thick raw leather cord.
Door stops from Bewoo are designed for both horizontal and vertical mounting so it can be mounted on the wall or on the floor, depending on what you prefer.
The door stop is delivered without surface treatment.
Door stops in simple Nordic / Danish design for easy installation.
What do you really need a door stop for?
Door stops protect your walls, door handles and the door itself with scratches, scuffs, dents and indentations. With a door stop from Bewoo, you also get a door stop in a timeless design in Co2-friendly natural materials. The safe choice for the stylish home.
Door stops that protect your walls and fit in design
Does this seem familiar? : The children are a little too busy and the door is therefore opened a little too quickly. The result is a thrall sound of door and wall meeting. The result is at best a scratch and at worst a deep imprint of the door handle in the freshly painted neat wall. Damage of this kind can usually be puttyed out and repainted, but was it not better to eliminate the damage? With powerful door stops from Bewoo, a world bent in wood ... you can easily prevent these types of damage to the painted surface, the wallpaper / wall. Who wants holes and marks right there behind the door? With Door Stoppers from Bewoo put in the front line, you avoid once and for all damaged walls. Install solid wood door stops from Bewoo behind your door today and save the paint / putty / wallpaper and worries away.
Find a nice door stopper right here
We also have large door stops that can keep the doors open, which e.g. is smart when you air out. Do you remember to ventilate 2-3 times a day for approx. 5 minutes per time? There is good for your indoor climate. By using a MEGA door stop, you do not have to open and close the door repeatedly when, for example. must carry groceries in d from the car. Avoid opening the door again and again thanks to our robust MEGA door stops. Do you want a door stop in a beautiful design at relatively low prices? Then buy your door stop at BEWOO. For us, it is important that you make a good deal and your expectations are met. For the same reason, you will also find an AR file of several of our products so you can see the product on the wall via your screen via your smartphone / Ipad. This gives you the opportunity to make the right choice for you. So if you are looking for a door stop for proper protection of your walls or a smart door holder that seeks that the door is open and you also want Nordic design in wood in your home then you have found the right place. Find your new door stop here.
bewoo.dk sells the best products on the market and at the market's best prices.
Order your product on this page today and have it delivered to your private address or to a parcel delivery point. Bewoo has a narrow and quality-proven range for the discerning consumer. Bewoo = Nordic wood design with a twist. We are ready to help you if you have any questions about the door stops shown - contact us by phone or send an e-mail and we will get back to you as soon as possible.
Data sheet
Heigth

28 mm

Depth

90 mm

Surface treatment

Non
Reviews
(0)